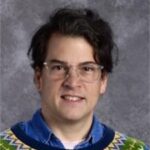 Graduate of Seattle Public Schools and University of Washington. Trombonist in Puget Sound Symphony Orchestra. I teach mornings at: Leschi (M), James Baldwin (T), Licton Springs (W), North Beach (Th), and Sand Point (F). Afternoons I'm at Catharine Blaine.
I teach instrumental music to 4th and 5th graders at six schools, and middle school band and orchestra at Catharine Blaine.
My favorite subjects in school:
Band
French
Geometry
PE at Lawton and Columbia (when we did archery, unicycling, roller skating, and juggling)
Pets: I have three cats, even though I'm allergic. Their names are Toby, Prudence, and Jupiter.
Family: Spouse Becky, and two high schoolers. One attends school in Gig Harbor, and the other attends in Seattle. In fact, he commuted two hours each way with me to Seattle for all of middle school. (Can you imagine?!?) Thankfully, we now have an apartment in city!
Favorite food: MOD Pizza
Favorite movies: Frozen 2, Enchanted, and Edward Scissorhands.
Favorite books: the Silver Trilogy by Kerstin Gier. (For many years my favorite book was The Eight by Catherine Neville. And one day I would like to get all the way through Gödel Escher Bach by Douglas Hofstadter)
Favorite music: listening to my students after they've practiced something they're excited about!
What I've been working on: Becoming more technically proficient with computer apps like Schoology, the Source, and especially audio/video editing (which I know almost nothing about). I'm a semi-professional trombonist, but violin was my first instrument as a kid (for a very short time), and since coming to work in SPS, I've been working on my fiddle skills. It's a long road, but I know if I just keep doing it, I'll keep getting better. And the better I get, the more fun I have playing!
Other favorite activities: Road trips, camping, and enjoying nature.
Schools I attended:
Pinehurst (gr. 1)
Lawton (2-3)
Columbia (4)
Lynndale (5 through part of 6, in Edmonds)
West Woodland (6)
Whitman (7-8)
Franklin (9-12)
University of Washington (BA/BM, with teaching endorsements in instrumental music, choir, and math)