Thurgood Marshall Team Read
Posted on: December 16, 2021
Team Read Elevating Black Readers
When Seattle Public Schools laid out its five-year strategic plan, the district set a goal to have students reading at grade level by the end of third grade, which is when students make the leap from learning to read to reading to learn. If this milestone isn't met, students can quickly fall behind in other subjects.   
Team Read, a Seattle nonprofit, propels students to become inspired readers and impactful leaders. In partnership with SPS, the free program recruits, hires, and trains teen reading coaches from middle and high schools, pairing them with second through fourth graders who teachers refer to the program. The pairs meet for one-on-one tutoring twice a week after school. Due to the pandemic, Team Read shifted to a virtual format of its Seattle program, piloting this approach in Summer 2019 and continuing through this school year. 
On a recent Tuesday afternoon, Thurgood Marshall Elementary Team Read coaches log onto Zoom for their sessions. After a group meeting, they are sent to breakout rooms to meet with their readers. Middle College High School junior Idrissa Gaye waits patiently for his reader to arrive. After a few minutes, fourth grader Jay'Shawn's face pops on the screen. Both boys are Black. Gaye said that race, along with having common interests, helps with the authenticity of their relationship. 
"I find it easier to be up front with him and talk to him in less of a coach-to-reader relationship," Gaye said. "We are both Black males and understand that sometimes just trying to be a goody two-shoes may not necessarily be effective."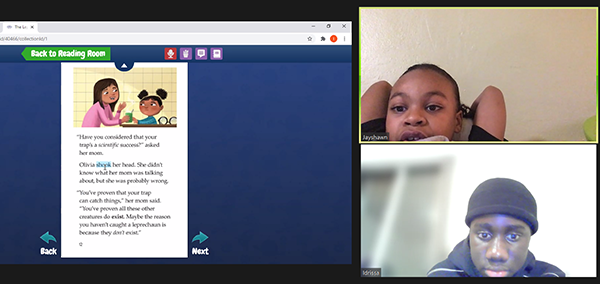 As part of the district's strategic plan, a heavy focus was placed on supporting students of color who are furthest away from educational justice, beginning with African American boys and teens – many of whom struggle with reading. While the majority of Team Read teen coaches are students of color like their student readers, according to Mia Doan, a Team Read site assistant and senior at Cleveland High School, the number of Black student readers is disproportionate to the number of Black coaches. 
"At the two sites that I've worked at, Idrissa is the only Black male I've seen work as a reading coach, which is really unfortunate," Doan said. "I wish that we could have more Black males as coaches because, at Team Read, that is our largest demographic of students." 
One of Team Read's current goals is to increase the number of male and Black teens who apply to tutor and contribute to the success of the program. While the deadline for coach applications has passed, all students – especially Black males – are encouraged to apply in the spring for summer program opportunities. Coaches receive an hourly wage or earn service-learning hours. 
Team Read's external evaluation shows that 70% of the young readers in the program advance more than one reading grade level in a year. 
Jay'Shawn said reading used to be hard for him. He used to take long pauses and stumble over words he didn't know. Team Read is helping to build his confidence.  
"I want to be able to read long, hard words."