Summer Learning Programs
Posted:
Summary: Cool classes and camps open opportunities for students.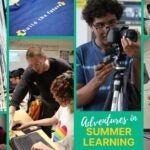 Adventures in Summer Learning
From budding journalists and musicians to future engineers, some students used their summer vacation as an opportunity to expand their knowledge while others used it to grow in their passions. Across the district, students participated in summer school, music programs, journalism camp, and more. Here are a few highlights of what students did this summer.
Skills Center Classes
There was no shortage of activities for students enrolled in the Seattle Skills Center, which prepares students for college, career, and life through advanced Career and Technical Education (CTE) courses. More than 300 high school students took classes on video game design, radio broadcasting, maritime vessel operations, construction trades, and other skills.
Schooner Adventuress
The Skills Center course aboard the Adventuress blends modern and traditional seafaring skills. Students engage in hands-on learning in navigation, engine maintenance, knots, and vessel handling, while exploring a range of in-demand maritime careers. Students will spend time each week on the water in small or large vessels, and some field trips will be done via walking or boating to local maritime industries. Twenty-four students spent one week completing day trips and learning basics, then lived aboard the ship for a full week, navigating Puget Sound and the Salish Sea.  
Journalism Camp
Six SPS students from four different high schools spent an intense four days at the Washington Journalism Education Association's Summer Camp at Washington State University in July. In this simulation camp experience allowed students to feel the pressure of working in a real newsroom and having to produce work in just one day. Students were put through the paces as reporters, page designers, photographers, videographers, and editors.
SPS Summer Music Program
In July, students got a chance to perfect their instrumental skills. They could work on their technique by playing in small ensembles. The program concluded with a musical performance by the students. Classes were hosted by Aki Kurose and Jane Addams middle schools.
Amazon Career Quest
The SPS Career and Technical Education department (CTE), Seattle Skills Center, and Amazon teamed up this summer to offer an immersive 2-week summer experience aimed at inspiring SPS high school students to pursue technology careers of the future. The program prioritizes students furthest from educational justice. The 60 students – who represented 12 SPS high schools –spent two weeks exploring various careers and learning coding. They created devices to keep drivers alert on the road, devices aimed at improving teenage mental health and supporting neurodivergent thinkers, as well as daycare protection devices.
AWS GetIT Design Class
AWS GetIT is an education and competition program aimed to inspire 12 to 14-year-old students to get into tech and to consider a future in Science, Technology, Engineering, and Mathematics (STEM). The program helps schools and educators bring tech role models to their classrooms. At Meany Middle School, students were challenged to create apps and present them to a panel of judges from Amazon.