Rising Star Students Break the Code
Posted on: January 31, 2022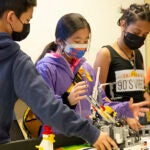 As her students file in, Elaine Dondoyano readies the classroom for some special guests. The Rising Star Art and Technology teacher has invited a group of students to come in and talk about computer coding and robotics. Her class of second graders are learning how to code. 
The guests arrive confidently carrying plastic boxes full of LEGOs and robotic pieces. They make their way to a special table and quickly begin assembling the pieces. Their hands are nimble as they put their robots together. But these guests are not from some well-known tech company. They are a group of fifth graders who make up the Rising Star Robotics Team.
Leah Andamelak, Zuan Chen, Meryem Hussien, and Vanessa Huynh have been working on their robots since the beginning of the school year, preparing for the For Inspiration and Recognition in Science and Technology (FIRST) League Challenge held virtually on January 22-23. The theme of this year's competition is "Cargo Connect," and students must build and program a LEGO robot while also engaging in an innovation project that solves a relevant, real-world problem. 
Team Firebirds, as they call themselves, decided to focus on a problem that hit close to home in their community: package theft. Their solution was called "The B.A.T." (Box Against Theft) and is designed to accept deliveries in a secure box. The box uses facial recognition to detect anyone near it. The students presented their project to two judges where they explained their innovations, robot design, code and teamwork. Ultimately, the team advanced to the state finals, which will be held remotely on Feb. 12.
Karl Gapuz is the Rising Star Robotics Team's coach. While he is happy about his team's performance, he is even more excited about what the students are learning in the process.
"Students are able to engage in a lot of STEM work and also do something that most of them have never done before," Gapuz said. "A lot of the skills that they are taking from the robotics program, they are applying it to the classroom and in life."
Gapuz said that while it was hard at first for students to see themselves as scientists and engineers, the experience of building robots, solving a problem in the community, and competing on a large platform has kept them motivated.
"It's the joy, the happiness I see," he said. "We need these opportunities."
As the second graders head back to their seats, they are buzzing with excitement. Dondoyano knows how important representation is for students. She hopes that having the older kids come in and teach their younger peers about robots has a lasting impact.
"What they are learning here really could set a course for their lives."