Library Volunteers
Posted:
Summary: In honor of School Library Month and Public School Volunteer Week, we are highlighting the work of library helpers around the district.
Library Volunteers Keep the Pages Turning
Lou Anne Rundall: More Than 50 Years of Service
On her first day back as a volunteer at Highland Park Elementary, Lou Anne Rundall was greeted with a giant hug from a third grader. The student would not let go. By the time Rundall made it to her destination – the library – she was in tears. The last time the two saw each other, the young girl was in first grade, but remembered Rundall from her class visits to the school library.
April is National Library Month, but this week (April 18-22) it is also Public School Volunteer Week. It provides an opportunity for schools and families to honor and highlight the powerful contributions parents, caregivers and community members provide at schools to support student success.
As part of the district's COVID health and safety plan, campuses have not allowed volunteers inside the school buildings. Just before spring break, the district rolled back some of its COVID protocols, giving helpers like Rundall a chance to return. But 86-year-old Rundall is not your ordinary volunteer. She has spent the past 50-plus years serving in the Highland Park Elementary School library. The two-year break caused by the pandemic is the longest she's been away from the school library since she started volunteering in June 1968.
"When I was told I could come back, I was excited," Rundall said. "But I had no idea about the joy it would bring to my heart."
When volunteers commit to serving at a school, students achieve higher grades, have access to more opportunities, and gain community connections to help them thrive. Volunteers also help by giving educators more time for instruction and individualized support for students.
Rundall volunteers five days a week for three hours a day – down from the six hours she used to put in during previous years. She spends her time processing and shelving books and making themed bookmarks for the students. April's design features bunny rabbits and Easter eggs.
Rundall started volunteering at Highland Park when her oldest son was in kindergarten, but she got her start as a library volunteer when she was in high school.
"Instead of going to study hall, I volunteered in the library," Rundall said. "So I've served in libraries for a long time."
In 2017, the school honored Rundall for her service by naming the school library after her. When asked what has kept her coming back over the years, Rundall's answer was simple: love.
"The kids love me, and I love them," she said. "To be well loved – what's better than that? There isn't anything."
Lincoln High School: A (Library) League of Their Own
When Lincoln High School teacher-librarian Claire Scott had to take a leave of absence to tend to an ailing family member, she did not have to worry about leaving the school library in the hands of someone else. She consistently has 20 to 30 students who show up daily to volunteer in the library. Scott has a group of 100 student volunteers she can call on when she needs help.
"It turns out we have more shelvers than the entire [Seattle] Central Library," Scott said.
While Lincoln's library may not circulate as many books as the downtown Seattle library, Scott's student volunteers still work hard every day. They create Instagram posts, help with inventory, and build creative book displays.
"Teenagers are so competent. I love outsourcing everything to students … whatever needs to be done. They are just good problem solvers," Scott said.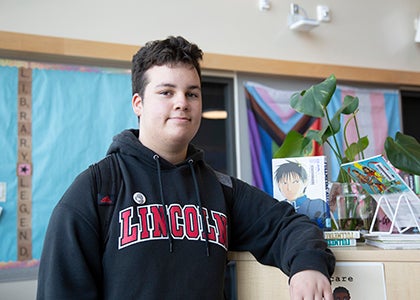 Student volunteers, which Scott calls her "library crew," put together mini book displays featuring a random assortment of topics. From books with yellow covers to books that take place in winter, to a section for starting a new hobby, if students ask, the library crew makes space for it.
"I enjoy working in the library," said sophomore Oliver Barradas. "Surrounded by all this knowledge at my fingertips, but I've also made some new friends here."
Barradas initially joined the library crew to earn service hours. Typically, students must earn 60 service-learning hours to graduate, but the School Board waived the requirement due to the pandemic for the classes of 2020, 2021 & 2022. Barradas estimates he has already earned more than 100 service hours. He keeps coming back because he enjoys the work.
Sophomore Nina Kieserman is also a student volunteer. Her love for the library started at Hamilton International Middle School after meeting the librarian during a school tour.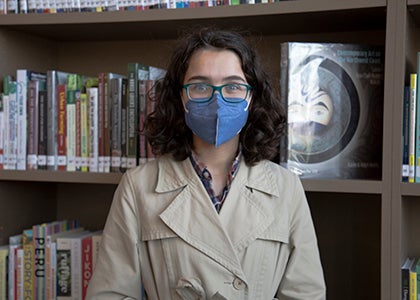 "She was really nice," Kieserman said. "When she offered the opportunity to be able to help out in the library, I took that opportunity."
Kieserman has a love of books and being a library helper gives her the chance to be among the first to see the new titles.
"We get to unpack all these new books that have just been published," she said. "And if you're shelving, you can find all these cool books to read. I think the library is an amazing place, and I hope that more people will understand that."