Engineering Scholarships for SPS Seniors
Posted:
Summary: Six SPS seniors were among 400 students across the U.S. to receive $40,000 Amazon Future Engineer Scholarships.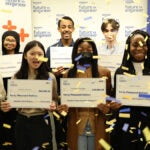 Six SPS Seniors Receive $40,000 Scholarship and Internship Offer from Amazon 
Using an elaborate ruse to get them to the Amazon Skills Center, Seattle Public Schools students received the surprise of a lifetime when they were awarded hefty scholarships toward their education.
Six seniors across five SPS high schools were among 400 Amazon Future Engineer (AFE) Scholarship recipients. Each winner will receive a $40,000 scholarship to study computer science or engineering starting this fall and a paid internship at Amazon after their freshman year of college.
The scholarship recipients are: 
Vicente Anyaegbu, Garfield High School 
Arni Hoang, Cleveland STEM High School 
Hai Yi (Chelsea) Li, Garfield High School 
Sahra Mohamad, Chief Sealth International High School 
Nathaniel Wetzel, Ballard High School 
Belinda Zhong, Franklin High School 
The winning students were led to believe they were representing SPS as computer science education student ambassadors for an Amazon-hosted panel discussion. Soon after they were introduced, Amazon employees brought out gift boxes to "thank them for their participation." Once they opened the box, confetti rained down to cheers and tears as the students realized they were scholarship winners.
"This is so unbelievable, especially as someone who's the first in my family to go to college," said Sahra Mohamad. "The price tag for every single school was so expensive; $40,000 is such a great help, and I know with the help of Amazon I'm able to do so many great things."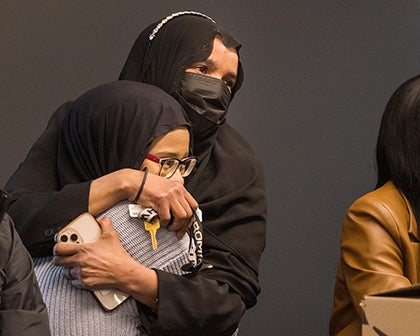 Nathaniel Wetzel, who plans to study computer science at Northeastern University next year, had his suspicions going into the event, but got nervous once he was called up to the panel. Ultimately, he was excited for what he called a life-changing moment. 
"I was just totally surprised and excited, too, because Northeastern is going to cost a lot of money for me and my family," he said. "I'll be able to study computer science without worrying about debt."
This is the first time SPS has produced this many AFE scholars.
"The partnership with Amazon and our school district is really important," Superintendent Brent Jones said. "I think this is a collaborative effort that's going to yield great results and outcomes for not just now, but in the future."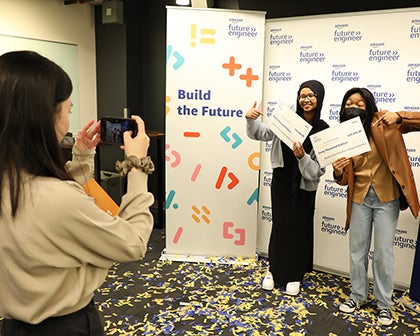 Amazon Future Engineer is a childhood-to-career initiative designed to inspire and educate millions of students each year from underrepresented and historically underserved communities to build life-changing skills that leverage computer science and coding to bring their dreams to life. Recipients were chosen based on a variety of criteria, including their academic achievement, demonstrated leadership, participation in school and community activities, and financial need. 
This year, Amazon, through Amazon Future Engineer, awarded $16 million in paid tuition for students to attend the college or university of their choice across the U.S.