SPS Celebrates Black Studies with 1st Annual Showcase 
Posted:
Summary: Seattle students, staff, and families gathered for the 1st Annual Black Studies Showcase.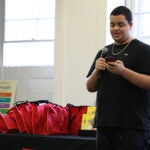 After years of trying to bring Black Studies to Seattle Public Schools, the district was able to offer virtual courses to students for the first time this school year. In celebration of that achievement, students, staff, and families gathered for the 1st Annual Black Studies Showcase.
Superintendent Brent Jones looked on as dozens of students presented works of art, poetry, food, and more to showcase what they have learned in their Black Studies courses.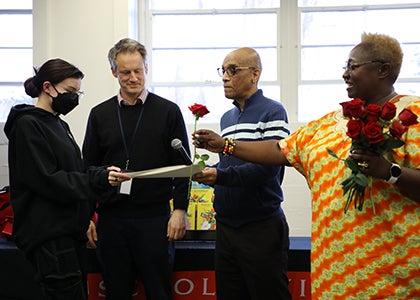 The event was organized by Black Studies Program Manager Anita Koyier-Mwamba. She wanted to create a space that featured a multi-modal approach to student learning that celebrated Black contributions to society.
"While Black people are prominently present in the worlds of the arts and sports, their nuanced, complex identities are not," she said. "The single story about Black/African American origins in enslavement and colonialism are prominent. Yet, the narratives of everyday life steeped in joy, curiosity and excellence are rarely told in equally prominent ways."
Koyier-Mwamba said every student deserves to have knowledge about the context of their life. Black Studies provides an opportunity for students to learn how to engage in challenging conversation and get to know people who are in community with them."
Director of College and Career Readiness Caleb Perkins said this achievement was a long time coming. He said the district launched the courses a few years ago in response to students' requests. Now, several hundred students across SPS high schools are taking the classes. 
"The Black Studies Showcase illustrates the progress Seattle Public Schools has made in expanding access to coursework our students have demanded, particularly in the areas of Black Studies and Ethnic Studies," he said. "The sharing of student work at the showcase reveals we are succeeding in transforming students' experiences in English Language Arts and Social Studies classrooms by centering the experiences of African Americans and Black excellence."
As a white educator, it would have been easy for Larry Uhlman to shy away from teaching the Black Studies course at Nathan Hale High School, but he's finding his stride after a rough start.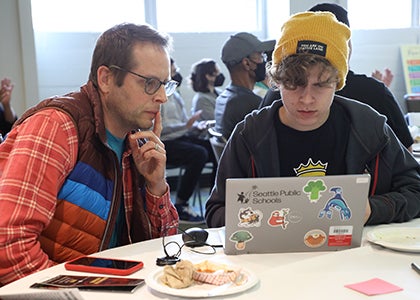 "The first days of the class was just me acknowledging and putting it out there," Uhlman said. "It's a pretty small class, but many of the students know me from other classes, and so it was really very heartwarming."
Uhlman said he is learning just as much as his students and hopes more students will sign up in the future.
"I really like the fact … it is not an alternative class," he said. "It is U.S. history through a Black perspective."
Milo is a junior at The Center School. He gave an entertaining presentation on the history of Black cinema. He said students should take the class to get a different perspective on Black history. 
"It's not a lot of things you hear about in your average history class," Milo said. "We're talking a lot about Black victories as opposed to Black trauma. In your average U.S. history class, you are going to hear a lot about slavery; we've barely talked about that … I think it's just a really good insight on what it means to be Black through a lens that is not negative."