Black Studies in SPS
Posted: | Updated: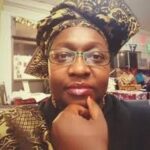 This year, Seattle Public Schools launched the first Black studies course for students in grade 11, Black Studies U.S. History 11B, the first course in our new Black Education Program. The Black Education Program was created in response to insights and advocacy from Black students, families, and communities across the district. With the launch of this first Black studies course, the Black Education Program is also partnering with our Native Education and Ethnic Studies programs in developing educator resources to support our "Decolonizing Social Studies" and implement our decolonizing approach across all subjects, beginning with middle school.
To advance this work, we are thrilled to announce that we have hired Anita Koyier-Mwamba as our Black Education Program Manager, a brand-new position within SPS.
Born and raised in Nairobi, Kenya, Mrs. Koyier-Mwamba received her B.A. in International Studies from Southern Oregon University and a JD from Seattle University School of Law. She is a passionate human rights advocate and believes that innovating education requires a clear and honest examination of history, re-centering current and future needs of humanity, and establishing systems that allow future generations to solve the problems of their time. Anita is a passionate student and educator of Black life and believes all people can benefit from the story of Black life. She was previously the family partnerships manager at SPS and we are excited to welcome her to this new role.
SPS is currently in the process of hiring a Black studies curriculum specialist to support this important work. Next year, the district will also launch additional Black studies courses, including Black Studies U.S. History 11A. Students who take these courses will earn credits toward graduation and will learn about the Black and African American experience from a national and global perspective. This includes, but is not limited to, African history, American history, critical race theory, American enslavement, Black and African American-led social movements, Black and African American social autonomy and economic development, Black and African American innovation, as well as Black and African American leadership nationally and globally.
Thank you to the Seattle School Board for their June 2020 resolution in support of meaningful actions that affirm its commitment to Black students and their safety and success in Seattle Public Schools, which led to the creation of the Black Education Program. Not only will this program have a profound impact on all students in SPS, but it furthers our commitment to creating an anti-racist, culturally responsive education system for our students, staff, and families.