ASL Courses at SPS Schools
Posted: | Updated:
Summary: TOPS K-8 and Roosevelt High School offer American Sign Language courses.
At TOPS K-8 and Roosevelt, Sign Language Classes Connect Two Cultures 
From the moment you enter Clhoe Taylor's American Sign Language (ASL) class, silence takes over. The immersive experience forces students to focus on listening with their eyes and talking with their hands. This is what it's like for students learning sign language at Roosevelt High School.
Seattle Public Schools has over 400 students with a diagnosed hearing impairment. Ten percent of those students are sign language users. TOPS K-8 and Roosevelt are the only schools in the district that offer a Deaf and Hard of Hearing (DHH) program. ASL courses are one way to connect hearing students with their DHH peers.
"My belief is the more students – the more hearing students – that know ASL and know about deaf culture, the better," Taylor said. "The DHH teacher and I do try to cross our students together … it just brings me right back to yes, we are doing the right thing. We're keeping that bridge connected."
At the high school level, students taking ASL can earn a world language and/or a career and technical education (CTE) credit, both of which are required for graduation. And while some students may be taking the class for credits, others are learning ASL for reasons that are more personal.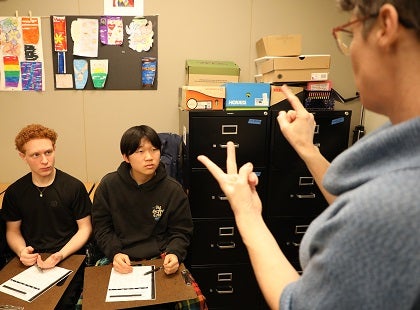 Roosevelt sophomore McKenna Couch did not speak until she was nearly five years old. She and her mom became fluent in ASL, but once Couch started speaking, she forgot all the sign language she'd learned. The ASL class was a way to regain that.
"In ASL, I have to be attentive; I have to be focused, I have to have my eyes on the signer at all times," Couch said. "I just feel like you get more information, and more work gets done because you have nothing to distract you."
As an athlete, Couch has been able to use sign language in sports, too. She's taught her coaches basic ASL so they can communicate with her from the sidelines.
Quinn Smiley, a junior at Roosevelt, is in her third year of ASL. When she first learned about the ASL program, she thought it would be interesting to communicate in a non-spoken language. While the early levels focused on the basics of signing and learning about deaf culture, this year, the class has focused on storytelling.
"We really dove into how to tell a story and how to sign a song," Smiley said. There are so many descriptors in English that there's no sign for in ASL, and the grammar is completely different."
Even though she's still learning, Smiley wants to be able to advocate for deaf people if there is no interpreter available.
"If somebody's confused there's a language barrier, I know I have the ability to help that person out," she said.
When Courtney Hill was a child, she attended TOPS K-8, but the school did not have a DHH program at that time. Now, Hill has a daughter who is part of the deaf community and is learning ASL at the school. The class has proven to be a benefit for Hill's entire family.
"As a family, we took an online ASL class, but didn't really do much good," Hill said. "Now, she is using ASL all the time. She uses it every day at school. She's taught her sister who's hearing abled, taught a bunch of her friends at her elementary school, too. It's part of our life now."
Although Roosevelt and TOPS K-8 are the only schools with DHH programs, Nova High School added ASL courses this year. Taylor hopes to see ASL offered in more high schools.
"The ASL program here at Roosevelt is amazing, however, it would be wonderful to see all high schools offer ASL," Taylor said. "We offer Spanish, French, Japanese, [other] spoken languages … I would love to see that happen more."
Roosevelt High School sophomore Rocks Gudwin contributed to the reporting of this story. He is a first-year reporter for The Roosevelt News. You can read the full version of his story, along with other stories by Roosevelt News reporters about the school's Deaf and Hard of Hearing program.
Accommodations for DHH students and the Policies That Make Them Possible by Rocks Gudwin
Finding Community Inside and Outside of School by Ryea Wylie
A Brief History of of the Deaf and Hard of Hearing Community by Alice Harman