American Indian Resource Library
Posted:
Summary: The American Indian Resource Library is full of resources that focus on Native American and Alaska Native perspectives.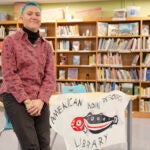 Tucked in the corner at the end of a long hallway in Meany Middle School sits a makeshift library filled with hundreds of books and curriculum. Students may not find books commonly found in school libraries, but they will discover a genre they may not have known existed: contemporary Native American literature.
When Seattle Public Schools laid out its Strategic Goals in 2019, part of its mission was to provide students with access to culturally relevant books. The American Indian Resource Library (AIRL) fits the bill. 
Curated by Gail Morris, SPS program manager for Native American Education, the AIRL is full of resources that focus on Native American and Alaska Native perspectives. The library also houses classroom materials and curriculum for teachers. The AIRL covers everything from food and nutrition to oral histories to Black and LGBTQ Native people.
AIRL Librarian Rachel Kresl is a descendent of the Diné (Navajo) tribe and is an avid reader. They never run out of book suggestions and has neatly arranged suggested reads on top of a table near the library's entrance. Kresl gets excited when they can introduce a student to good reads that are not only culturally relevant, but also mix in history, science fiction or romance.
Kresl wants to remind students and teachers that Native people should not be reduced to historical figures and stereotypes. They explained that students have a hard time bringing Native Americans into the present as they often request books about more popular figures like Pocahontas.
"I really try to steer kids and teachers toward contemporary stories," Kresl said. "I think it's really important for students to read about other kids who … also have an iPhone and go to school and are very deep in their culture as well."
Kresl said classroom sets of some books are available for teachers and students. They can barely contain themselves when listing off suggested books. As a fan of young adult novels and science fiction, Kresl named several authors they believe students would enjoy.
"I really love our new books … there are some really amazing books coming out," they said. "There's 'Elatsoe' by Darcie Little Badger … it's super good."
Kresl also recommended 'Healer of the Water Monster,' a science fiction fantasy novel set in New Mexico.
"It was one of the first books that I was like, 'Wow!' I feel like I'm at home."
Having a room fully dedicated to Native Americans is no easy feat. To maintain the integrity of the library, books that are outdated or hurtful to Native culture are weeded out. Most of the books are written by Native American authors and all are purchased from Native-owned bookstores.
"We are making sure this collection is honoring every Native American person," Kresl said.
Although the AIRL is located at Meany, its contents are available to all SPS students, who can access the library's catalog through the online portal. Requested books are delivered to the student's school librarian for pick up.