Advanced Learning at West Seattle Elementary
Posted on: March 17, 2022
Summary: West Seattle Elementary is creating practices that recognize and nurture the talents and interests of every student.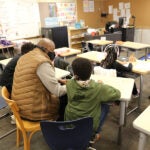 Honoring Gifts and Talent at West Seattle Elementary 
West Seattle Elementary teachers and staff have been hard at work creating a more equitable Advanced Learning environment that provides every student, particularly those furthest from educational justice, the support they need to grow their strengths and work at more complex levels.  
"In addition to our students being beautiful and brilliant, I feel everybody has a gift and a talent," Principal Pamela McCowan-Conyers said. "They're just waiting for it to be nurtured." 
One way they do this is through their STEAM program—that brings the outside world in—to make the work relevant to students' lives, based on their interests. Experts from technology companies such as Microsoft and Amazon are invited into classrooms to teach coding, and the school offers many extra-curricular activities, such as Running Club, Chess Club, Robotics Club and Adventure Club — where students can participate in activities to which they might not otherwise have access.
"These are the things that expand a kid's perception of themself," McCowan-Conyers said.  
Creating practices that recognize and nurture the talents and interests of every student is another way the school is bringing equity into the classroom.
West Seattle Elementary has incorporated a push-in model that is designed to keep students in their classrooms when receiving individualized services. Instruction supports the whole child, addressing a student's need for grade level support and providing advanced lessons when appropriate.
Their work supports Seattle Public Schools' commitment to changing the way we provide advanced learning services to ensure that the brilliance of every student is honored and supported, particularly those furthest from educational justice. New types of instruction will consider the needs of the whole child, and the new model will ensure equitable access to advanced learning opportunities for every K-8 student. Every student currently enrolled in advanced learning will continue on their existing path.
"I look forward to [SPS] disrupting systemic inequities that limit Black and Brown students' access to advanced learning opportunities," said Rashid Noor, a second-grade teacher at the school.
The new Advanced Learning model is focused on ensuring access to services for every student, particularly those who are Black, Brown, Indigenous, multilingual, or who receive special education services.
Noor, along with third grade teacher Grace Deery-Schmitt, also spearheads an after-school program that will bring teachers and family members into the classroom so students receive education in their home language. The Somali after-school program was introduced in February and the teachers hope to soon start classes in Amharic, Oromo, Spanish, and Vietnamese.
The two teachers attended a workshop offered by the SPS Advanced Learning Department that gave insights into the inequities within advanced learning models and offered steps that educators can take to promote every student's unique ability.  
The pair currently leads staff meetings around equity and professional development and collaborates with teachers and staff to make sure every student is supported.   
"Rashid and I were so fascinated by this work that we have been finding ways to share it with our administration and staff," Deery-Schmitt said. "And we are constantly looking for ways to create equitable collaborations and conversations with families."