Academy for Rising Educators
Posted on: June 29, 2022
Summary: ARE is a program that helps seniors and recent graduates, SPS staff, and community members earn their teaching certificate.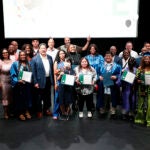 Rising Educators Moving Up
In a time when many educators are leaving the profession, others are stepping up to lead the charge. Students in Cohort 2 in the Academy for Rising Educators (ARE) were honored in a touching commencement ceremony on June 25 at the Langston Hughes Performing Arts Institute.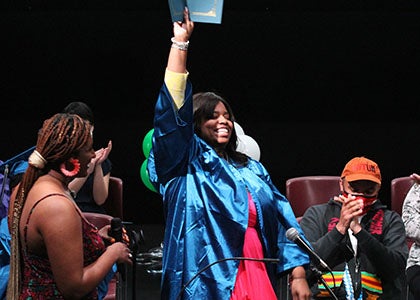 ARE is a program that helps Seattle Public Schools (SPS) seniors and recent graduates, current SPS staff, and community members earn their teaching certificate with the goal of diversifying the teaching staff within SPS. The program is supported in part by the voter-approved Seattle Families, Education, Preschool and Promise levy.
The 21 candidates in Cohort 2 are all people of color who are dedicated to long-term teaching and committed to anti-racist teaching.
Seattle Mayor and Garfield High School alum Bruce Harrell opened the ceremony by addressing the students about the impact teachers have on shaping the future of our country.
"Our strongest weapon will be our educators and those they educate," he said.
Studies show students of color are more engaged when they see themselves reflected in the teaching staff. Superintendent Brent Jones spoke about the significance of ARE and how the program brings more educators of color to the district.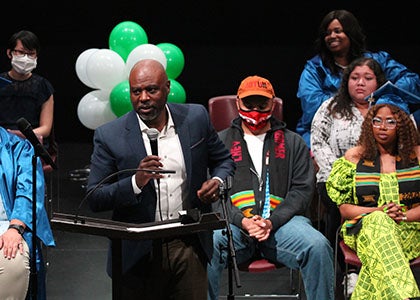 "We know statistically that if our students see someone in that teaching spot that looks like them, they have a higher sense of belonging, they have a higher self-identity, and by default, they have higher outcomes academically," Jones said. "[ARE] is setting the stage for our students to have those outcomes that we've been striving toward for so long."
SPS Assistant Superintendent of Academics Keisha Scarlett delivered the keynote address, offering words of encouragement to the graduating class. She was on double duty as a speaker and parent – her daughter, Danielle, is a student in Cohort 2.
Chev Gary, a restorative circle coordinator at Cleveland STEM High School, and Cleveland alum Isaiah Draculan served as student speakers. Gary, who is studying to become a school counselor, spoke to his peers about the role of an educator, and gave several tips he wanted his class to carry with them throughout their teaching careers.
"If you find someone challenging to work with, do your best to see the humanity in them," Gary said. "You may find greater understanding of your own triggers, skills, and areas for growth."
Gary offered advice on everything from communicating with evaluators to working with difficult colleagues to nurturing talent in students who may feel unworthy of praise – all lessons he has learned during his time at Cleveland. Gary also said educators should not hold back on talking to students about the atrocities of the world.
"Vote, protest, organize, strategize," he said. "Do all the things you have the right to do before you no longer have the right to do them."
According to Superintendent Jones, there are about 250 candidates who are currently going through ARE. The program provides candidates with tuition and academic support in exchange for their commitment to work in an SPS building.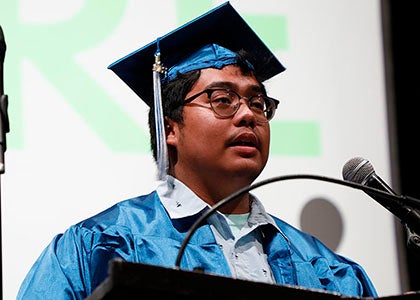 Currently, students spend two years earning an associate degree before moving on to earn their bachelor's degree from a partnering institution. During the ceremony, it was announced Cohort 3 would be the first to go through all four years at Seattle Central College. Students will earn a Bachelor of Applied Science degree with an emphasis in equity and social justice.
A majority of the students in Cohort 2 will attend North Seattle College before moving to the University of Washington for their teaching certification. While there are many teacher certifications programs in Washington, ARE is the only program that includes district-provided financial support and preferred placement upon completion.