Jump Start
Posted: | Updated:
Summary: Jump Start, a free kindergarten transition program, is designed to help incoming kindergartners become familiar with their new school community.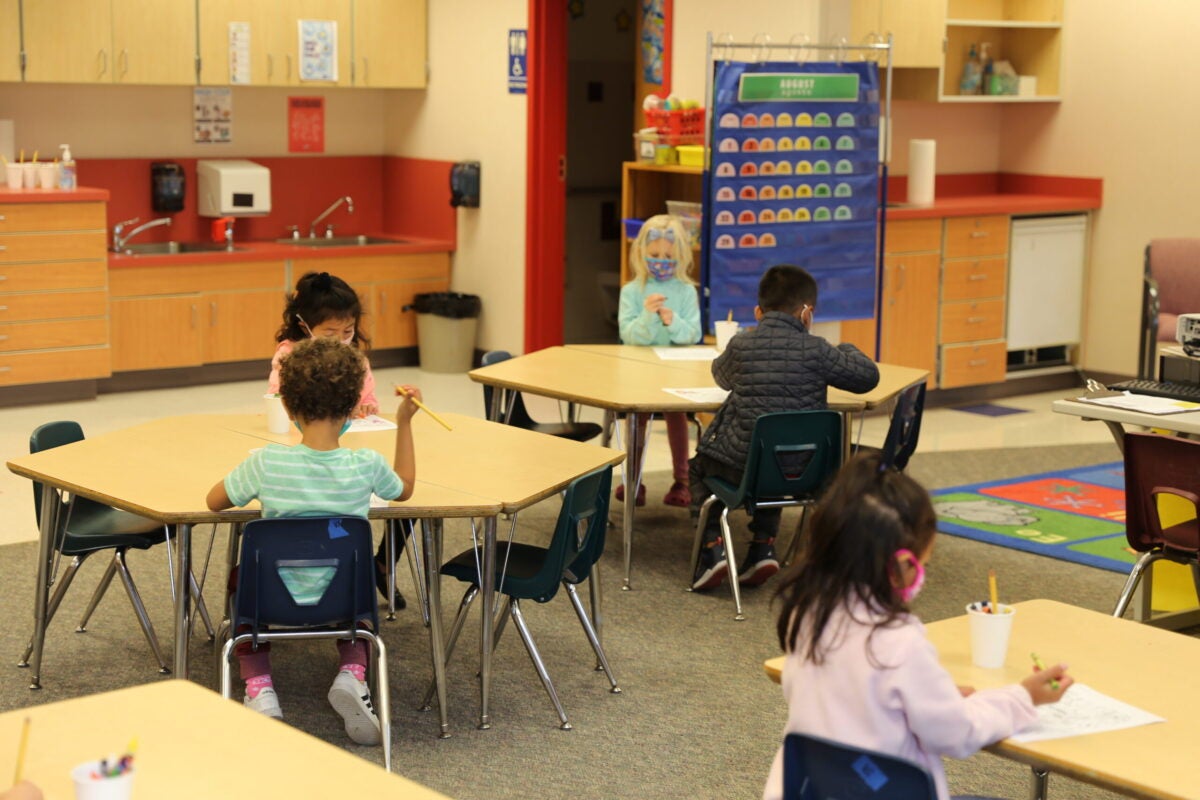 Jump Start offers free summer school for incoming kindergartners
Seattle Public Schools (SPS) is working to ensure all students receive high-quality instruction and learning experiences from the very start of their educational journey. One way the district is accomplishing this goal is through Jump Start—a free kindergarten transition program offered through most SPS elementary schools.
The program—which began in 2012—is designed to help incoming kindergartners become familiar with their new school community. Students visit their school and classroom before the start of school to meet their classmates and teachers, and to practice kindergarten routines so the first day of school isn't overwhelming.
"The wonderful thing about Jump Start is that the teachers and schools really look forward to meeting their new families," said Mary Fickes, SPS Early Learning Coordinator. "When children and parents visit their schools and are greeted so warmly, it sets [students'] anxiety and nervousness. It tamps it down a little bit."
From Monday, August 15 to Friday, August 19, incoming kindergartners can visit their assigned kindergarten school from 9 a.m. to 12 p.m. Families who have incoming kindergarten students will receive information from their assigned school on how to sign up for Jump Start. Families can also contact their student's assigned school about registering for the program.
Not only do students have a chance to meet with school staff, but families are also invited to connect with their student's teachers and principal to ask questions and learn more about the school.
"Parents and guardians whose students attend Jump Start become familiar with what to expect," Fickes said. "This gives them peace of mind when their student heads to their first day of kindergarten."
What might also help ease any beginning of the year jitters for families is a new transportation opportunity for Jump Start families. This year, SPS has partnered with the Seattle Department of Transportation (SDOT) to offer families preloaded Orca cards.
"This partnership with the city of Seattle is a great way to serve families who may not know about these transportation options," Fickes said.
The cards can be used on any transit service provided by King County Metro, Sound Transit, Community Transit, Everett Transit, Kitsap Transit, Pierce Transit, and Washington State Ferries, as well as on Monorail and Seattle Streetcar. Families can request Orca cards through the SDOT website or contact SDOT at dot_tap@seattle.gov or 206-256-6722.
Whether it's going to school or riding the bus for the first time, students who attend Jump Start will be well-prepared for school life.
Kindergarten begins with Jump Start
August 15 – 19, 2022 9 a.m. – 12 p.m.
What is Jump Start
Jump Start is a FREE week-long experience to welcome new kindergartners and their families to Seattle Public Schools. Children meet their peers and school staff and get to know the school. Our goal is for all students start school feeling safe, supported, and ready to learn.
Where is Jump Start Offered
Most Seattle elementary and K-8s offer Jump Start. Please ask your school if they will participate. Children must be assigned to a participating school (not on a waitlist) to attend Jump Start there. Schools will offer bilingual help to English language learners and extra support to children with special needs.
Will Jump Start be held in-person?
We plan to hold Jump Start in person, but your school will contact you if this changes. Families drop off and pick up their child–no school bus transportation is offered.
When and how do we sign up for Jump Start?
Each school will send Jump Start information to its new families in the spring. Call your school if you have questions.
Please call your child's school before Jump Start if:
your child needs medicine or health procedures at school
your child has an IEP or needs extra support
your family needs help with transportation or child care