Bike and Walk to School Month
Posted: | Updated:
Summary: Schools are celebrating National Bike Month by organizing daily bike and walking bus groups.
May is Bike and Walk to School Month
May is Bike and Walk to School Month, and at least 30 Seattle Public Schools are celebrating.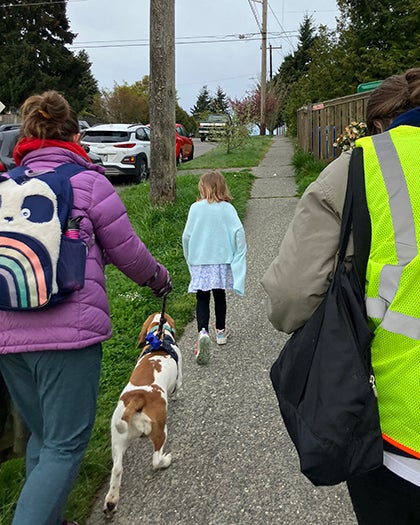 Roxhill Elementary staff led walking groups to school on April 26 in honor of Earth Day, and their Green Team took the lead on getting the word out to their classmates.
Students from Dunlap Elementary and South Shore PreK-8 will ride the bike bus to their schools every Wednesday in May.
John Muir Elementary parents are starting daily walking school buses to school.
Wing Luke Elementary is holding Walking Wednesdays with parent leaders walking with students to school.
Louisa Boren STEM K-8 and Green Lake Elementary are organizing bike trains to school.
Read the City of Seattle Safe Routes to School Manual to learn more about daily walking school buses.
Several schools are holding Walk and Bike to School Day events. Those schools include:
Adams Elementary
Alki Elementary
Arbor Heights Elementary
Bailey Gatzert Elementary
Bryant Elementary
Cedar Park Elementary 
Concord International Elementary
Daniel Bagley Elementary
Decatur Elementary
Eckstein Middle School
Gatewood Elementary
Genesee Hill Elementary
John Rogers Elementary
Highland Park Elementary
Lafayette Elementary
Lawton Elementary
Loyal Heights Elementary
Olympic Hills Elementary
Orca K-8
Thurgood Marshall Elementary
Salmon Bay K-8
Stevens Elementary
Wedgwood Elementary
West Woodland Elementary
If your school wants to get in on the action, the Seattle Department of Transportation offers incentives you can hand out to students for bike and walk to school events. 
Cascade Bicycle Club has walking and biking tracking calendars and Bike Bingo – play to win prizes!
Tell us what's happening at your school. Register your event on the National Bike and Roll webpage so we can support you and showcase your success!