Contribute to WHOLE Mentoring
Job Description
WHOLE mentors can be hired as SPSSeattle Public Schools More employees and be compensated for mentoring a 9th or 10th grade Black male student at one of the following Whole Child Whole Day high schools: Chief Sealth, Cleveland, Franklin, Garfield, Ingraham, Rainier Beach. Mentors can also sign up to be unpaid volunteers. Until the end of the school year, mentors will engage in an organic and professional relationship with a mentee to support them social-emotionally, uplift their identity, encourage them in their pursuits, and challenge them to excel in and out of the classroom. This position requires a strong background in relationship management, emotional and cultural intelligence, and consistent communication.
Compensation and Commitment
As a way to help defray a mentor's out-of-pocket expenses associated with WHOLE Mentoring, mentors will be paid $20/hr. and be required to dedicate five hours a month to their mentee: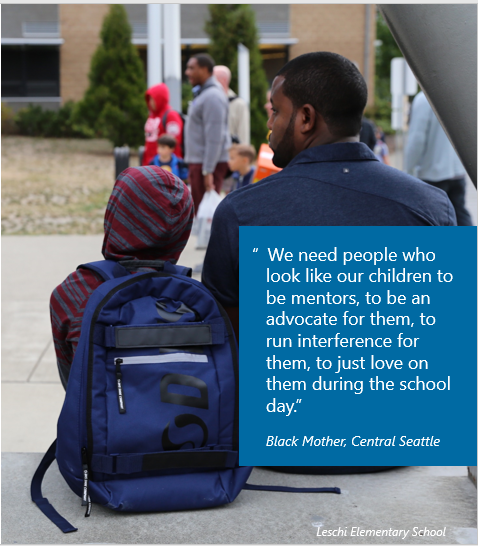 Two hours a month will be dedicated to helping the mentee achieve their academic goals and evaluating their morale at school. Involvement may look like:
Helping them create a pathway to improving grades.
Advising them on how to navigate relationships with teachers, school staff, and peers.
Offering assistance on assignments.
Encouraging them to challenge themselves academically and step into leadership roles in school or the community.
Two hours a month will be dedicated to building an organic relationship with their mentee. Involvement may look like:
Attending their extracurricular events.
Meeting for meals together.
Doing constructive activities together (i.e., exercise, play sports, chess, meaningful conversation).
One hour a month will be devoted to affirmative communication with the mentee, their family and adults working with them such teachers, coaches, etc. Phone calls, text messages, and virtual calls will be expected to occur over the course of the month.
Mentors are not limited to this five hour monthly structure but are asked to dedicate time that will best serve their mentee. Mentors will also be asked to attend professional development events, group activities, and trainings over the course of the year. Hours dedicated to mentoring the mentee or participating in trainings will be paid at the rate of $20/hr. Mentors who volunteer to work unpaid are still expected to dedicate five hours per month to their mentee and attend all trainings. In regards to the COVID-19 pandemic, our steps will echo those of Seattle Public Schools and the Washington State Health Department.
Desired Outcomes
Through WHOLE Mentoring, mentors will support mentees to:
Sustain/renew their joy for learning.
Acknowledge their brilliance and have a heightened pride in their Black identity.
Feel a sense of belonging and build a network of support.
Increase their involvement in leadership opportunities.
Enroll in higher level classes (i.e., honors, APThe Advanced Placement program allows students to take rigorous college-level courses while More or IBRigorous high school curriculum based on an internationally developed and reviewed curricular More classes).
Excel in all classes to be on pace to graduate on time and be ready for life after high school.
Mentors will be tasked with helping mentees achieve these goals and will be provided with training on how to track the progress of each goal.
Become a Mentor or Volunteer Contributor
Please fill out the application to become a program mentor (paid or volunteer) or to become a professional contributor. Mentors must pass a background check and fingerprinting, as well as be fully vaccinated or granted a medical or religious exemption, in order to participate in this program. All information will be kept confidential.